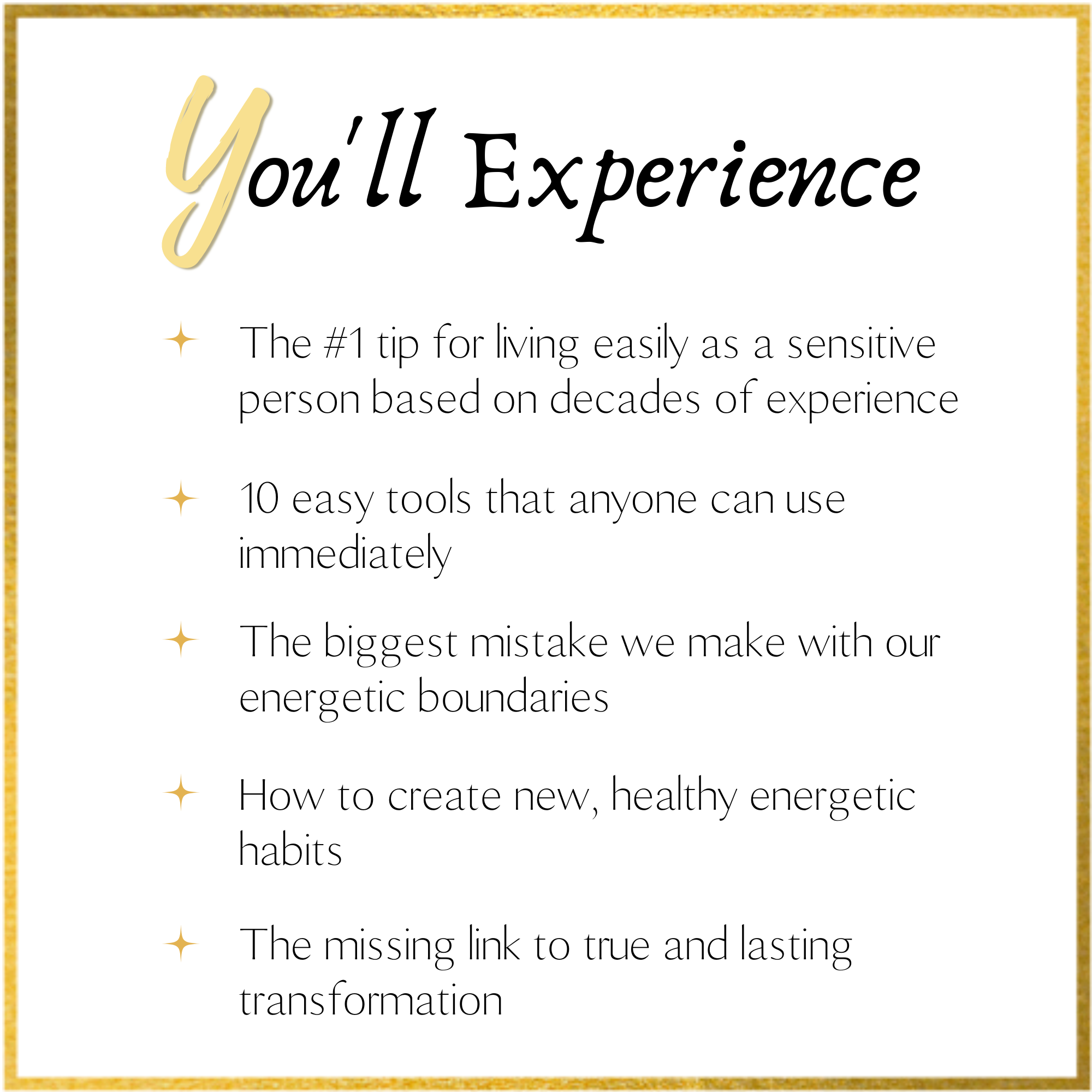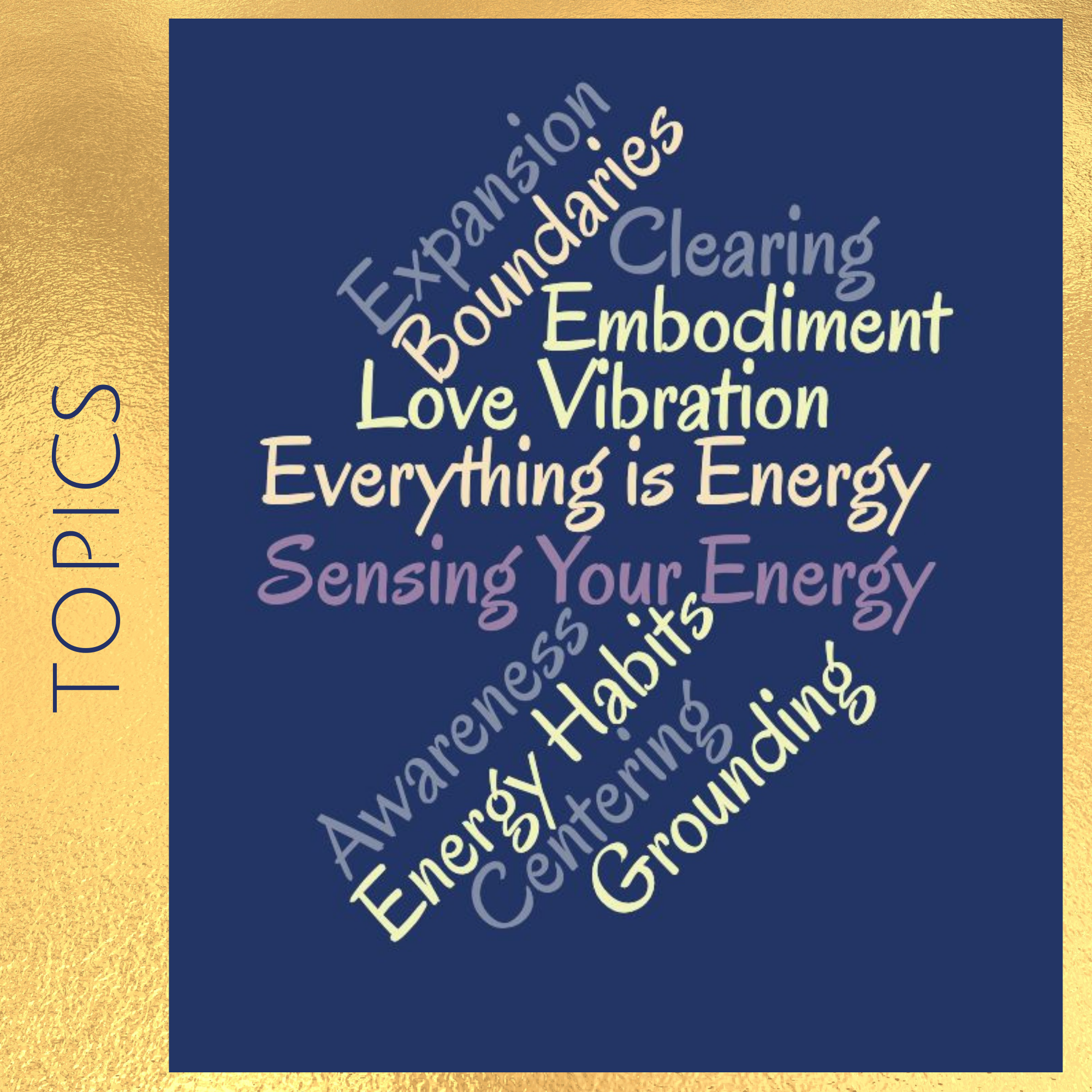 Highly Sensitive + Energy Sensitive
Are you easily overwhelmed in crowds or take on the emotions of others?
Do you ever feel that things in your life seem to suck the energy out of you?
If so, you are likely "highly sensitive" or "energy sensitive"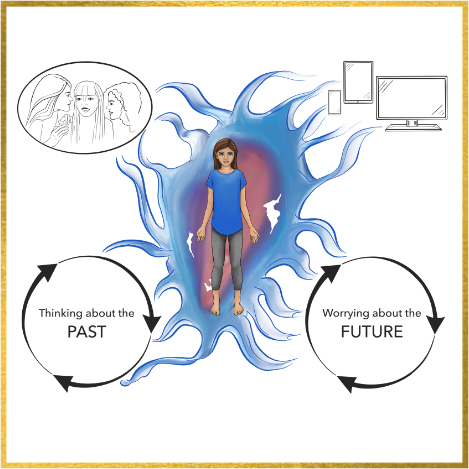 ENERGETIC WHOLENESS
Imagine that you could live every day full of vibrancy no matter what is happening around you.  

When you are full of your own energy, there isn't room for anything else. 
Anyone can learn how!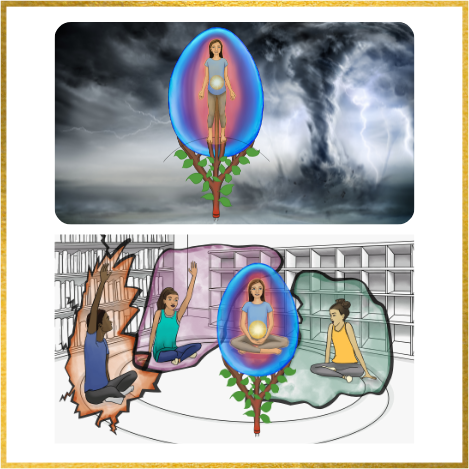 Did you know that 1 in 5 people are considered "highly sensitive"?

 
YOU ARE NOT ALONE + THERE IS NOTHING WRONG WITH YOU.
Being "energy sensitive" often goes hand-in-hand with being a "highly sensitive person", or HSP, a term that was coined by Elain Aron in 1996 to describe people with "Sensory-Processing Sensitivity" (the scientific term). 
But, there are slight differences between being "energy sensitive" and "highly sensitive".  Most notably, being an HSP by itself does not cause impairment or distress.  It's how our energy responds to the way we perceive and process information that determines if we are "energy sensitive" and to what degree.  Learn more here!

I am "highly sensitive" and "energy sensitive" with two "highly sensitive" and "energy sensitive" children, and I used to struggle every day with the exhaustion and physical ailments that come with taking on other people's energy.  I speak from experience when I say that anyone can learn the tools for creating, nourishing and maintaining healthy boundaries with the world.
As a former scientist + engineer, I've studied more than 10 science-based energy healing methods as well as the science of habit creation to find easy and fun ways to take out the bad and enjoy the good that comes with being sensitive.
In the "Easy Living" program, I combine the common threads of my energy healing education, lessons learned from helping others heal, and my own experience to teach life-changing tools that you can use from the very first lesson to function more easily in our busy world.
LISTEN TO KRISTIN DISCUSS "THE ENERGY OF EMPATHY" 
Every Thursday, we have a discussion on the Clubhouse app called "The Energy of..." Series.  During these 90-minute conversations, we explore the energy of everyday things in an effort to de-mystify energy and discuss it in a practical & meaningful way.  We aim to share tools & tips that you can take into your life immediately to live a life of ease and joy that is aligned with your energy. 
In "The Energy of...Empathy", we discuss how to have compassion without taking on the energy & emotions of others.  Enjoy!
CHOOSE YOUR ADVENTURE!
more details on each option below
Don't Hesitate!
LET'S CHAT!
FREE
CURIOUS BUT UNSURE?
This is a big investment, but one that can change your life.  Book a free 30-minute consultation and we can answer questions, talk through concerns + see if it's a good fit.  
Most popular
ONLINE COURSE
$999
AT YOUR OWN PACE
12 Modules
12 Meditations
12 Hours
Lifetime Access
Guidebook
1 TO 5 PEOPLE
PRIVATE COACHING
$3,000 - $3,330
PESONALIZED HEALING
Online Course
12 Sessions
12 Meditations
You Set the Schedule
Free gift!
ONLINE COURSE
Lifetime access
Companion Guidebook 
12 Modules (12 hours total)
12 Downloadable Meditations
73 Micro-Learning Videos
THE "EASY LIVING FOR SENSITIVE PEOPLE" ONLINE COURSE is comprised of several "micro-learning" videos that you can consume easily + conveniently.
There are 12 modules, each containing 6 micro-learning sections:
Introduction to the content
Everything is Energy, where we try to answer the question "What is energy, anyway?"
Learning, where we engage our analytical mind to understand the science behind energy + behavior.
Storytelling, which is a great way to integrate the concepts into your life in a meaningful and grounded way
Habit Helpers, where we learn how to create a lasting habit + set ourselves up for success with our own energy habits
Practicing what we learned so you can really experience yourself as energy.
The online course comes with 12 downloadable meditations and a companion guidebook to decrease the need for note-taking.
PRIVATE COACHING
12 Sessions via Zoom (60 min each)
You Set the Schedule
12 Downloadable Meditations
Online Course (12 hours)
Free water bottle or mug to support your new energetic habits
PRIVATE COACHING
For Individuals
$3,330
Get individual attention and extra healing for your specific challenges and strengths when it comes to your sensitivity superpowers and energy habits.
PRIVATE COACHING FOR
A Group (up to 5 people)
$3,000 each
Please designate one person to be the
"Group Organizer" who will book the session times.  All others book as a "Group Non-Organizer".  Each person pays individually.